Water butts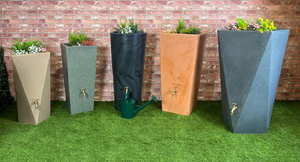 On this page you'll find all of the water butts we supply. 
The key technical considerations are: 
A water butt is a container used to collect rainwater typically used for garden irrigation. In a rainwater harvesting system, rain water flows from the roof down a downpipe (drainpipe), through the diverter, and then into the water butt. Typically all diverters act as the overflow when the water butt is full - when installed at the correct height. Some of the diverters we supply also act as filters. Use this rainwater diverter guide to learn more. 

The alternative way to capture rainwater is to allow the downpipe to enter the water butt directly. In this scenario an overflow is required to prevent the water overflowing the water butt. A leaf catcher at the inlet of the tank is also useful to prevent leaves and debris entering the tank.

We're often asked what capacity is required? This will typically depend on the current watering regime (demand) and the number of days drought protection required. Use this water butt sizing guide to learn more. 
Water butts are often made from plastic and are usually placed on the ground. However, they can also be wall mounted.  
We offer the full range of options, from small water butts to large water butts and in a range of styles and colours. Some water butts are supplied with diverters included while others do not, check the options to select the diverter required. 
Most water butts have the tap above the base this has two benefits; the water butt remains stable when 'empty' with the weight of the water stabilising the water butt against windy conditions for exmple. Likewise having a sump allows debris to settle out over time and water to be drawn off from the clarified zone. The majority of water butts have a sump and this can be cleaned/drawn down by removing the sump plug.