How much water do I need to water my garden and other useful watering tips...
How much water do I need to water my garden and other useful watering tips...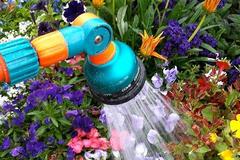 We're often asked how much rainwater storage do I need for my garden? The simplest way to look at this is to take the average usage per day, let's say its 3 watering cans worth. A typical watering can is 5 litres and so the daily usage would be 3 watering cans x 5 litres which is 15 litres per day.
Now the tricky part is thinking how many days of storage do you require. In the UK it rains typically once every three days. However in the summer of 2018 some areas of the UK had no rain for over 30 days! In 1976 Milton Abbas in Dorset and Teignmouth in Devon had no rain for 45 straight days! However these are extremes. Let's say we want  rainwater for 10 days of dry weather so  the total would be the daily usage (15 litres per day in this example)  multiplied by the total number of dry days (10 in this example) which equals a total storage volume of 150 litres. 
That's it, its as simple as that. Daily usage multiplied by days without rain you're preparing for. 
At this range (150 litres - 500litres) of storage our standard decorative water butt range would suffice.  
If you're wondering how does that work if you're currently using mains water hose. Well the flow rate is typically 6-10 litres per minute (lpm) depending on the mains pressure, hose diameter, nozzle setting. 15 minutes on a hose would equate to 90-150 litres per day/session. If rainwater storage of 10 days is required in this example this would equate to 900-1500l total storage requirement. 
At this range (500 litres upwards) of storage our rainwater tanks might be more appropriate .  
The following is a look up graph -if you know your daily usage on the x-axis and the days without rainfall you're preparing for you can quickly read off the storage required on the y-axis. 
Finally here are some quick tips to make your rainwater go further: 
1. Water late in the evening or early in the morning. Watering at this time means less water evaporates than it would on hot soil during the day. 
2. Keep leaves dry to avoid diseases. Wet leaves can become diseased . Leaves can also burn as the droplets magnify the suns rays. 
3. Water the roots. This is ultimatley where the watre is absorbed and so the most efficient place to direct water. 
4. Water 'gently': aggressive watering can result in washout/movement of topsoil and expose shallow roots. Consider using a soaker hose with a gravity fed rainwater harvesting system. 
5. Use water-saving irrigation methods: Clearly if you're harvesting rainwater you want to use it wisely. Consider a dripper irrigation system connected to a wall mounted water butt for a passive watering system. 
6. Avoid over watering: This can waterlog the soil and drown the roots :(.