Slimline and wall hung water butts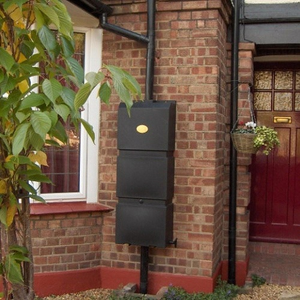 Slimline and wall hung water butts
On this page you'll find all of our wall hung water butts and slimline water butts (floor mounted).
If you're limited in space, wall hung water butts may be the way to go. They allow you to retain all of your available ground space for other uses. They also have a more slimline design than the ground models, and are therefore more unobtrusive. Since they are higher up, an additional benefit is that they allow you to fill your watering can without bending over. Wall mounted water butts can be used effectively for drip irrigation system. 
Slimline Water Butts
We offer a range of slimline water butts holding 100 litres to 200 litres, and a slim water butt which holds up to 300 litres. Bespoke water butts can be found here. If there is something you require but can't see it simply drop us an email and we'll try to help.