SuDS Planters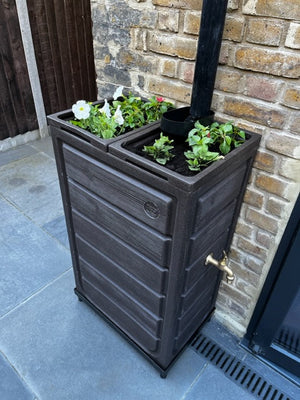 Implementation of SuDS systems are now standard practice for new developments. In certain instances conventional SuDS systems, below ground e.g. tanks, crates and ponds are not feasible due to limited available footprint or high ground water level. In these instances above ground attenuation is an option in conjunction with other SuDS technologies.
SuDS planters offer a neat way to provide storage which can contrinute to the attenuation volume requirement.
Our range of SuDS planters generally have the following features:
100% inflow from the downpipe
Debris/detritus screen to prevent blockage
Top aesthetic planters for mini rain garden/amenity
The Manhattan Agile SuDS planter and Thames Water Passive SuDS planter incorporates the patented FlowBrake® mini - the worlds first compact low-head, low-flow vortex regulator for attenuation flow control.
Fully recyclable MDPE construction
No specialist installation required
High void ratio for stormwater capture
Ideal for properties where there is limited space for underground storage or larger SuDS planters
The whole system is completely PASSIVE with NO electrical/mechanical moving parts
Minimal maintenance which can be end user led
Multiple tanks can be linked to increase storage
A number of our Prestige Water standard planters can also be modified into SuDS planters. We can also provide the supporting SuDS calculations for SuDS planters.