Below Ground SuDS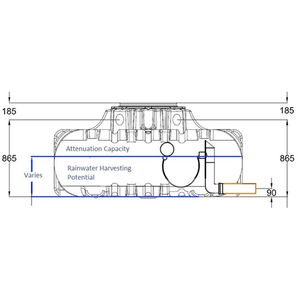 We supply a range of undergound rainwater attenuation tanks and crate systems which can be used to fulfill building control conditions related to stom attenuation. Sustainable Urban Drainage systems allow peak rainwater flows to be managed by preventing the peak storm entering the sewer system.
The benefit of using an integrated tank over crates is that the total installation time and cost is reduced since:
a separate  upstream debris filter is not required as one is integrated into the turret
A separate flow control chamber is not required as one is integrated into the tank 
The installation of a tank is simpler and quicker than a crate install without the question mark over tank integrity and longevity 
Crates offer the advantage of potentially shallow excavations and allow unique geometeries to be set up to suit the site.
In order for us to quote please send through the design drawing showing the storage volume and dimensions required, upstream filtration chamber and downstream flow control.
If the design is not completed we can complete the SuDS sizing design here.