High capacity water butts
High capacity water butts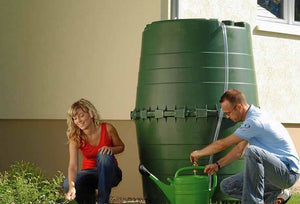 Rain, rain, rain – these last few weeks have seen a tremendous amount of rain falling across the UK.  There has even been snow and sleet.  Whatever happened to spring? Many people will undoubtedly have been wondering whether rainwater harvesting is necessary. The answer is, undoubtedly, yes. 
The weather within the UK is much more unsettled than it ever before.    Precipitation levels are higher than usual along with high seas and storm warnings.  Winter storms such as Storm Katie, Storm Jake and Storm Imogen have led to major flooding particularly within Northern England. Storm Desmond sent 1,700 cubic meters of rain into the Solway Firth every second during the height of the storm, resulting in record flow rates in many rivers.   
This pattern has changed little throughout the spring. April was the coldest on record, at times being colder than Siberia and Greenland as temperatures reached -3.4ºC in Powys, Wales. Periods of heavy rain have occurred in most areas. There have also been major thunderstorms setting trees on fire and destroying telephone and internet connections. 
Experts from the UK Centre for Ecology and Hydrology have analysed the record breaking temperatures and rainfall levels, revealing that the changes brought out by global warming have been made worse by the natural variability in UK weather patterns. As an island nation, the presence of the sea encourages the development of rain and cloud.  Professor Myles Allen, climate scientist at Oxford University points to predictions of heavier winter rainfall go back 25 years.  The warmer atmosphere holds more moisture, which comes down to earth as rain.  The rise in temperature roughly translates to 4 to 5 inches of rainfall.  
With ground level water so high, thinking about rainwater harvesting is often low on the priority list for many people.  It is all too easy to be complacent. Yet this is a short sighted attitude to take. 
Every year, there are always significant periods of dryness. The further east you go, the drier the atmosphere, and the lower the rainfall.  Summers are generally becoming drier. Despite heavy winter rains, droughts are always possible.  As soon as the soil begins to dry out in the summer sun, plants will need watering.   Newly planted flowers need a lot of help to survive the first year in the garden, and vegetables will not thrive without water.  Home grown vegetables and soft fruit are beneficial in terms of freshness, vitamins as well as being a cost effective element within the household budget.
 Being prepared for these dry periods is essential. Capturing as much rainwater as possible is absolutely essential.  It is, after all, a free resource which will benefit gardens and allotments throughout dry spells. Rainwater harvesting can also be used in many ways around the home such as flushing toilets, washing clothes, cars and keeping kitchens clean.  
Even in late spring and throughout the summer, it is possible to increase the amount of rain being captured. Summer showers can sometimes be quite heavy. Ensure that there is a wall water butt beside every down pipe around the house, garage, greenhouse or shed. The
Colossus Water Butt
has a massive 1000 litre capacity yet takes up minimal space. Likewise the
Classic range
has a 650l capacity and the dimensions of a small wardrobe.  For something very stylish the classic
slim wood effect water butt
blends in perfectly with areas of decking and the architecture of period homes as it looks very natural. If an existing water butt is full – add an extra butt and link with a
Water Butt Connector
comprising a special pipe link.   Our 'plug and play' solutions ensure that extra butts can be ready for use within minutes.