Drought in the United Kingdom
Drought in the United Kingdom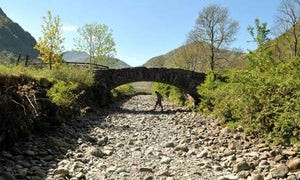 Drought is an increasing problem worldwide. Countries such as Australia and the US have experienced mega droughts during which no rain fell for years in places like California.  The sight of dried up rivers and low reservoir levels became a reality.  Such scenes are not uncommon.  Even in the UK, there have been severe droughts when concern has been expressed about the risk of not having enough water to supply everyone's needs. 
Within the past fifty years, there have some notable droughts.   1976 was one of the worst droughts since records began.  A dry winter was followed by a hot and dry summer, with temperatures in excess of 90ºF.  Some areas such as Devon and Cornwall had no rain for 45 days. Even Wales experienced no rain throughout August. 
A further severe drought occurred in 2003 when temperatures of 100ºF were recorded.  There were even unofficial reports of temperatures as high as 104ºF.  The situation was made worse by the fact that the high temperatures caused greater evaporation of surface moisture on plants as well as in reservoirs, rivers and streams. The appearance of the remnants of long lost villages in reservoirs attracted media attention, along with the cracked and dried up ground.
Droughts cause major problems for householders, businesses as well as the environment and wildlife.  It affects the quality of the soil, which can also be eroded by the wind.  Wildfires break out and wetlands can be lost. The cost of trying to keep crops watered rises, thus impacting on food costs.
Climate change combined with the ever-increasing number of households and demand for water by homes and businesses puts the available water supply under constant pressure.  Hosepipe bans have become a normal occurrence.  In recent years water restrictions have been applied in 2006, 2007 and in 2010.  While in 2012, approximately 1/3 of the country was affected by drought conditions.  Southern England, East Anglia and much of the Midlands are frequently affected by droughts and water restrictions. 
Despite the amount of rain experienced throughout the UK over the past few months, there is an ever-present risk of drought every summer.  Rainfall levels are never consistent across the entire country.  Essex is renowned for being one of the driest areas of the UK, experiencing just 507 mm of rain on average each year – compared to average levels of 3,000 mm in Snowdonia. Just fifteen consecutive days during the summer with less than 0.2mm of rain occurring can create regional drought conditions.
Much of the rain in recent months has been occurring in areas which notoriously experience heavy rain such as the Lake District and northern England.  Atlantic storms have resulted in torrential rain being experienced. Yet much of this rain eventually dissipates into the ground or in the oceans that surround the UK.  High summer temperatures and low rainfall can quickly use up large quantities of the rain in underground aquifers. 
Greater quantities of the rainfall can be saved for personal use by installing rainwater harvesting systems. This will provide valuable water resources during the hot summer months when drought restrictions are likely. Water butts need fitting under every down pipe, including greenhouses and sheds. No matter how limited your space, there are suitable water butts available including slim line versions that can be mounted on walls. Diverter kits can be added to combine more than one water butt in an area, thus ensuring that minimum rainwater is lost throughout the winter. You can even install water butts that combine water storage with a planter to give a decorative touch.