Which wall hung water butt?
Which wall hung water butt?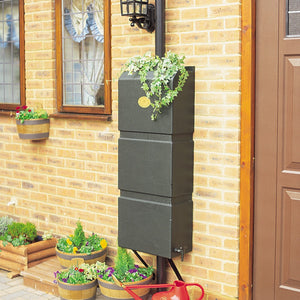 Wall-mounted water butts 
So you've decided to 'green-up' and save rainwater to keep your garden green (and your neighbours green with envy). You've found our site, looked at the lovely pictures, and then you came across a page about wall-mounted water butts – whoa! Who knew that this was even a choice?!
Let's have a look at why a wall-mounted water butt might be a great choice for you.
No 'footprint'
This is a great advantage of a wall-mounted water butt. Water butts can take up quite a bit of floor space but just because you've got a small garden, doesn't mean you can't have a water butt. Growing everything in pots in your patio garden? Great, keep them there. Fix the water butt about your pots – wall-mounted water butts really don't have a 'footprint'!
Fix it at a height to suit you
If you have a bad back, or don't want to develop one, and the thought of leaning over to fill your watering can from a traditional water butt is one that you can't deal with, choose a wall-mounted water butt and have it fixed at the height to suit you. When you choose the height your water butt is mounted at, your back will be happier and you will know for sure that your favourite watering can will fit under the tap!
Garden feature
You've read our site and done you're research. Now in your garden sits a fabulous wall-mounted water butt. You will have chosen to either: be able to admire it from your kitchen sink, or, have it hidden away with the sense of achievement that you are saving the environment discreetly. Your neighbours, however, will not fail to notice your amazing choice and will be fascinated to hear all about why you chose it, the options you had and where you bought it from …
The options:
Our 100l wall mounted water butt, with no diverter required is practically 'plug-and-play'. It comes with everything you need to fix it - just add water!  The sleek design makes it a very discrete piece of kit and is available in a range of colours. 
The Original Prestige, Wall mounted 100l water butt is a novel, simple British designed water butt perfect for the garden. This space saving, slimline design will compliment and fit any style of house.It is sturdy and easy to install, supplied with everything you need. Totally child safe and pet proof.
Our 160 Litre Wall Mounted Water Butt Rainwater tank comes with a standard diverter or with Gutternate which screens the leaves into a sieve allowing only clean rainwater to enter the water butt.   The 160 litre water represents the highest capacity wall hung water butt available. 
 The Rain It always Raineth...