Manhattan City Water Butts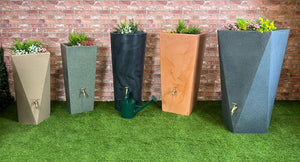 Manhattan City Water Butts
The Manhattan water butt range is a modern range water butt planters,  available in a range of shapes and capacities.
All the planters are SuDS compatible with the FlowBrake flow regulator range.
Each water butt in the range has a brass tap, sump drain down point on the back face and a recessed planter with 100mm access into the tank.